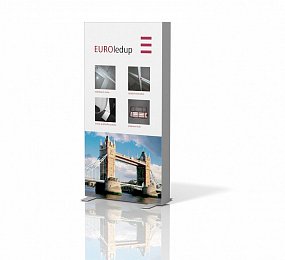 LEDUP display 100 x 200, incl. print
Illuminated display system 100 x 200 cm, including double-sided print
Width:

1000 mm
Height:

2000 mm
Depth:

80 mm
Product weight:

10 kg
Product description
Show your product in a revolutionary display system of superb quality with multi LED frame and with a high quality OSRAM LED technology. A high level of brightness and even illumintion makes this system a champion among illuminated displays.
The system consists of just a few parts and can be quickly assembled without tools. Simply pull out the components from the carrier, connect them and set up the preassembled base tracks. Easy to use silicon lip edging allows you quick and flat mounting of your printed panel. Panels can be easily exchanged. Assemble the frame, connect driver and cables – plug it in and finished.
Profiles are made of high quality anodized aluminum and are UV resistent. 
The whole system comes in a practical and eco-friendly cardboard box. There are a separate sections where each parts can be savely stowed.
Read more
Have a question about this product?