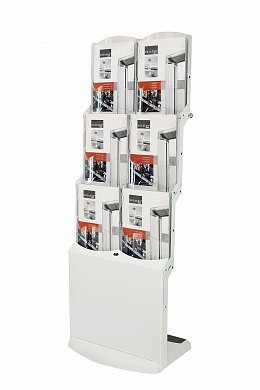 Portable brochure stand real bianco 6 A4
foldable brochure holder real bianco 6xA4
Width:

445 mm
Height:

1275 mm
Depth:

330 mm
Number of pockets:

6
Pocket size:

A4
Product weight:

10.4 kg
Package weight:

15.8 kg
Product description
Real bianco leaflet stand in elegant white consists of 6 A4 pockets.
The pockets are made of durable polycarbonate, and their improved design prevents the information material from falling out and bending.
The stand is very easy to fold and can be ordered with a transport bag.
advantages:
- brochure and information pockets for A4 format
- foldable and portable: unfold and fold it together in just a few seconds
- high stability thanks to the shock-resistant polycarbonate


Read more
Have a question about this product?