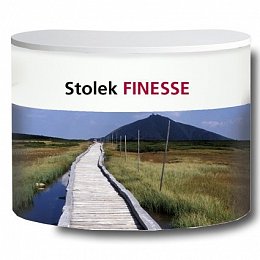 Promo counter Finesse
Promo counter Finesse, with transport bag
Width:

1245 mm
Height:

910 mm
Depth:

420 mm
Product weight:

13 kg
Package weight:

14 kg
Product description
Exhibition counter Finesse is a new type of elegant and practical portable plastic counter with rounded design.
Counter is made of quality plastic and its assembly takes less than 2 min. You can choose from white or black top. We print the graphics according to your wishes. If more storage space is needed, the inner shelf can be removed. Counter is suitable for events of all kinds. Thanks to its simplicity, material quality and durable packaging, you can use this product repeatedly.
The counter comes with a topdesk and shelf and a quality transport bag.
What material we use for the print?
We use monomeric sticker with photolamination that is glued to the plastic tables.
How to prepare graphic materials?
You can prepare the graphic on your own or you can save yourself some work and time and use the services of our graphic department, where they will be happy to create your design. If interested, please contact us at info@proexposhop.cz or by phone +420 543 422 140.
Data transfer: FTP transfer, data storage, CD, DVD, external USB, HD, e-mail: info@proexposhop.cz (max. 12 MB).
Read more
Have a question about this product?