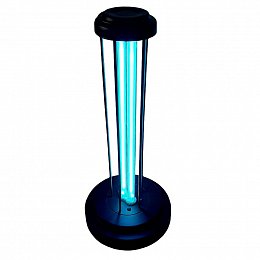 Germicidal ultraviolet lamp - black
Powerful sterilizing 360 ° UV-C lamp for disinfection of surfaces, liquids, and air in smaller spaces up to 60 m2. UV-C radiation kills 99.9% of bacteria and viruses, including coronavirus
Read more
Width:

190 mm
Height:

570 mm
Depth:

190 mm
Product weight:

1.5 kg
Product description
UV radiation in the C spectrum disrupts the cellular structures of organisms that damage and destroy living microorganisms, bacteria, fungi, and viruses, including coronavirus. Germicidal lamps are used in areas where a highly sterile environment is required, but also where it is necessary to prevent the spread of viruses or bacteria.
Main advantages:
Fast and contactless disinfection 
UV-C light destroys all living organisms, microorganisms, bacteria, and viruses
Disinfection without chemicals
Disinfects surfaces, air, and liquids
Where UV-C disinfection is used:
in healthcare - in ORs, in the waiting rooms, or in laboratories.
in food and gastronomy to disinfect storage rooms and production areas.
in hotels, restaurants, bars, etc.
in public toilets
in public transport
in offices, waiting rooms, conference rooms, warehouses, or archives
The sterilization lamp is mounted on a metal base and is protected by a protective cage. The lamp has a power input of 60 W and UV-C radiation emits at a 360 ° angle. The radiation wavelength is 254 nm.
UV-C radiation is dangerous for all living organisms. 
PEOPLE OR ANIMALS CANNOT BE PRESENT DURING DISINFECTION.
For this reason, the lamp also has a remote control, which is included in the package. You can choose from three timeres: 15, 30 and 60 minutes.
The lamp can also be set with the buttons directly on the device when you select a time limit. First, a countdown of one minute is automatically started, during which it is necessary to leave the room. The sterilization lamp switches off automatically after the set time has elapsed.
A disinfectant UV-C lamp with a power input of 60W is suitable for a space with a maximum area of 60 square meters, and ideally should be placed in the middle of the sterilized room. When turned on, the lamp emits UV-C radiation, which sterilizes surfaces throughout the room and destroys all living microorganisms, viruses and bacteria. As UV-C lamps produce ozone, it is recommended to ventilate the room thoroughly after using the lamp.
Read more
Have a question about this product?