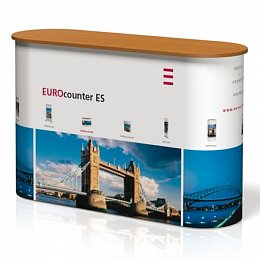 Exhibition pop-up counter ES 2x2, straight
Folding promo counter ES 2x2, straight, principle pop-up
Color:

wood
Width:

1484 mm
Height:

900 mm
Depth:

450 mm
Product weight:

19 kg
Package weight:

22 kg
Product description
Promotional counters ES is a group of lightweight mobile counters based on the pop-up principle. Based on the reliable technology, this line of counters are a practical and effective means of having an instant presentation surface and point of contact wherever and whenever you need it. Counters are very stable and thanks to their easy and quick assembly they are suitable for frequent movements.
The counter comes with a wooden top plate and shelves. Graphics is changing very easily.
In the accessories you can find and order a set of durable black transport bags.
Why pop up counter ES 2x2?
Unique and sophisticated fully magnetic system

Magnetic rails are automatically secured
Use of magnetic connections in the construction, instead of mechanical locks

It is extremely easy to put the graphic panel on. You simply attach it to the magnet
High quality topdesk made from laminated chipboard with ABS edging
The topdesk is foldable
We offer an extended 10-year warranty on all our products
We are ISO 9001: 2016 certified
It is a product made in European Union
What graphical panel material do we use?
PVC with matt monomeric lamination
Smooth lamination
More suitable for curved tables
Excellent whiteness of materiál
Cheaper option
How to prepare graphic materials?
You can arrange the preparation of graphic panels yourself or you can save yourself some time and use the services of our graphic department. They will be always happy to help and create your design. If interested in our service, please contact us at info@proexposhop.cz or by phone +420 543 422 140.
Read more
Have a question about this product?